Janitorial Services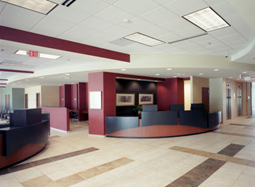 Forum Services is a cleaning services provider that is committed to providing comprehensive and efficient cleaning services to meet each client's specific needs.
We work hard to meet and exceed all of your building's service needs and expectations so you can focus on your core business.
Creative and dependable, Forum's proven team currently cleans and manages property totaling over 2,000,000 square feet of space.
Forum Cleaning Services' primary objective is to provide comprehensive and responsible services designed to meet each client's specific facility needs.
Forum Services knows that commercial cleaning services go beyond just pushing a broom. Forum has a comprehensive cleaning program that ensures your facility's needs and your customers' needs will be met. Customers come first, so we strive to ensure that our client's building, confidential data and personal items will be safe, secure and clean.
Top Ten Reasons why you'll be satisfied with Forum
All work is 100% Guaranteed.
We provide superior quality services to all our clients' specific needs.
We provide customer-driven service solutions.
We provide carefully selected, bonded, insured, fully trained and highly motivated team members.
We provide immediate response to special requests.
We provide prompt, courteous and accurate response to client concerns or requests, 24 hours a day, 365 days a year.
Our success will be a "Work in Progress"; however, we will never implement change unless it clearly satisfies the needs of our clients.
We always put our clients needs first!
Reasonable and Competitive Rates.
Restrooms will be ultra clean.
And these are just the top ten!